Team Building and Corporate Events
Good team work is central to successful work places for everybody involved. Team dynamics can be tested and analysed when presented with Team Building challenges. By moving out of the typical office environment and into wild, remote places, roles change and you can expect everybody to be challenged and rewarded. 
Pure Outdoor provide unique and inspirational Team Building days from our base in the Peak District but also throughout the UK. We will discuss your team building goals and design the day to suit the required outcomes, whether that is just an opportunity to get your team to know each other better or if you are looking at setting some specific goals.
We have previous worked with the following companies: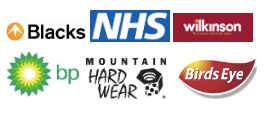 Discover your Pure Outdoor team building activity
1 day · Peak District
An epic challenge day including problem solving, weaselling, climbing and abseiling
From £79.00 per person
1 day · Peak District
A competition through the Peak District, conquer challenges as your team races to Capture the Flag
From £79.00 per person
1 day · Peak District
Use teamwork and ingenuity to locate, treat and rescue an injured adventurer in the heart of a mighty Peak District moor
From £79.00 per person
1 day · Peak District
Customise an Adventure Day that is perfect for your team
From £79.00 per person
half day · Archery & Target Sports Centre
Archery and axe throwing in the beautiful Peak District
From £38.00 per person
half day · Peak District
Test your skills in the Peak District with our 30 bird clay pigeon shooting competition
From £59.00 per person